Mouse Anti-Arabidopsis ABCA12 Antibody (CBMOAB-1252FYC)
Certificate of Analysis Lookup
To download a Certificate of Analysis, please enter a lot number in the search box below. Note: Certificate of Analysis not available for kit components.
Lot Number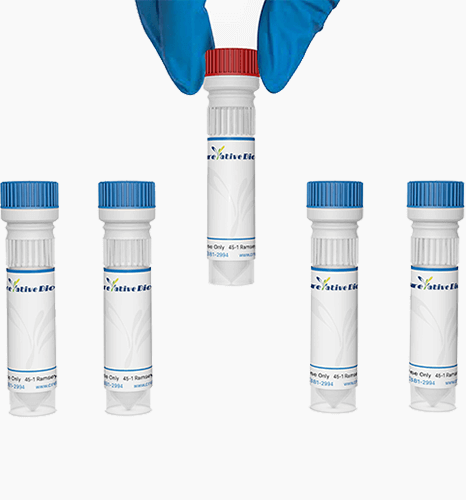 Specifications
Host species
Mouse (Mus musculus)
Species Reactivity
A. thaliana (Arabidopsis thaliana)
Clone
MO1252FC
Specificity
This antibody binds to Arabidopsis ABCA12.
Format
Liquid or Lyophilized
Storage
Store at 4°C: short-term (1-2weeks)
Store at -20°C: long-term and future use
Purity
> 90% was determined by SDS-PAGE
Purification
Purified with Protein A or G affinity chromatography
Application Information
Application
WB, ELISA
Application Notes
ELISA: 1:1000-1:3000
Other applications are to be developed. The optimal dilution should be determined by the end user.
Target
| | |
| --- | --- |
| Introduction | The membrane-associated protein encoded by this gene is a member of the superfamily of ATP-binding cassette (ABC) transporters. ABC proteins transport various molecules across extra- and intracellular membranes. ABC genes are divided into seven distinct subfamilies (ABC1, MDR/TAP, MRP, ALD, OABP, GCN20, and White). This encoded protein is a member of the ABC1 subfamily, which is the only major ABC subfamily found exclusively in multicellular eukaryotes. Alternative splicing of this gene results in multiple transcript variants. |
| Product Overview | Mouse Anti-Arabidopsis ABCA12 Antibody is a mouse antibody against ABCA12. It can be used for ABCA12 detection in Western Blot, Enzyme-Linked Immunosorbent Assay. |
| Alternative Names | ATP Binding Cassette Subfamily A Member 12; ATP-Binding Cassette, Sub-Family A (ABC1), Member 12; ATP-Binding Cassette Transporter 12; Ichthyosis Congenita II, Lamellar Ichthyosis B; ATP-Binding Cassette Sub-Family A Member 12; ATP-Binding Cassette 12; EC 3.6.3.25 |
| UniProt ID | Q9FLT8 |
| Protein Refseq | The length of the protein is 917 amino acids long. The sequence is show below: MVNPSPASFWTQANALLRKNLTYQRKHIWTNVRLILVPLFLCLILLAIQQVLDALMKGVSDMSNCGGNVTLPGGICPIPNPPSLPPMLQIPQHELRSVKTDFFSYKDLPDKLCRETGSCPVTILFTGDKLPLGKALSANIFSTSFVVNSSDLLPTLANNVLGSTEAAGEDNYEDPGIASDLPIYSIQPSCSANSTWPLSLGQIQTAVKCVQGLCLWRNNSVEVNDELFKGSWRGNPAGMPNEIVAAYDLMSTDRKNFNVTIWYNSTYNDEFATGQALKLVRVPRSINLISNAYLKFLKGPGTRILFEFLKEVPKEETKMNQDIASLLGPLFFTWVVLLLFPVILTSLVYEKQERLRIIMKMHGLGDGPYWMISYAYFLTISMLYVISLVGFGSAIGLKYFRRNDYSIQFVFYFIYSNLQISLAFLVSSIFSKVKTVTVIAYILVYGTGLLGSFLFQKMIETQSFPEEWILAMELYPGFSLYRGLYEFSQYASRGNGMKWQDLSDSGMGEVFCIMSVEWFLALIVAYYIDQVFTSGKHPFFFLVNLFKSPSSLPRRPTVQRLDSKRVFIDMDKHDVTQERESVQKLRNEGSTGHAILCDNLKKVYPGRDGNPPKMAVRGLYLSVSSGECFGMLGPNGAGKTSFISMMTGLLKPSSGTALVQGLDICKDMNKVYTSMGVCPQHDLLWETLTGREHLLFYGRLKNIKGSDLTQAVEESLKSVSLYDGGVGDKPAGNYSGGMKRRLSVAISLIGNPKVVYLDEPSTGLDPASRKNLWNVIKRAKQNTAIILTTHSMEEAEFLCDRLGIFVDGGLQCIGNSKELKSRYGGSYVFTMTTSSKHEEEVERLVESVSPNAKKIYHLAGTQKFELPKQEVRIAEVFRAVEKAKANFTVFAWGLADTTLEDVFIKVARTAQAFISLS. |
See other products for "
ABCA12
"
For Research Use Only | Not For Clinical Use.