Mouse Anti-Arabidopsis AT3G46110 Antibody (CBMOAB-0025FYC)
Certificate of Analysis Lookup
To download a Certificate of Analysis, please enter a lot number in the search box below. Note: Certificate of Analysis not available for kit components.
Lot Number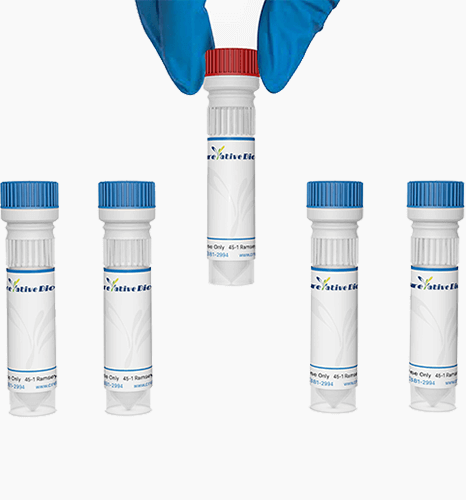 Specifications
Host species
Mouse (Mus musculus)
Species Reactivity
A. thaliana (Arabidopsis thaliana)
Clone
MO0025FC
Specificity
This antibody binds to Arabidopsis AT3G46110.
Format
Liquid or Lyophilized
Storage
Store at 4°C: short-term (1-2weeks)
Store at -20°C: long-term and future use
Purity
> 90% was determined by SDS-PAGE
Purification
Purified with Protein A or G affinity chromatography
Cellular Localization
Plasma Membrane
Application Information
Application
WB, ELISA
Application Notes
ELISA: 1:1000-1:3000
Other applications are to be developed. The optimal dilution should be determined by the end user.
Target
| | |
| --- | --- |
| Product Overview | Mouse Anti-Arabidopsis AT3G46110 Antibody is a mouse antibody against AT3G46110. It can be used for AT3G46110 detection in Western Blot, Enzyme-Linked Immunosorbent Assay. |
| Alternative Names | At3g46110; Putative uncharacterized protein At3g46110/F12M12_80; At3g46110 At3g46110/F12M12_80 |
| UniProt ID | Q8GY65 |
| Protein Refseq | The length of the protein is 343 amino acids long. The sequence is show below: MALVSSRATQDSKPSRERIVPVVYYLSRNGRLDHPHFIEVPLSSHNGLYLKDVINRLNDLRGNGMACLYSWSSKRTYKNGFVWYDLSDEDFIFPVHGQEYVLKGSQILDLDNNSGNFSAVTHRRNQSWSSVDHYKVYKASELNAEATRKLSMDASTQTDDRRRRKSPVDEVNEVTELSREEITSPPQSDSSPETLESLMRADGRLILLQEDQELNRTVEKMRPSAVLMQLISCGAMSFKKCGPTLMNGNTRSTAVRGTGNYRLERAEKELKSFGRVKLEEKEYFSGSLIDESSKKELVPALKRSSSYNIDRSSRMGLTKEKEGEELARANFIPRNPNSVVGQP. |
Reference
Reference
1. Shen, L., Zhong, T., Wang, L., Zhang, Q., Jin, H., Xu, M., & Ye, J. (2019). Characterization the role of a UFC homolog, AtAuxRP3, in the regulation of Arabidopsis seedling growth and stress response. Journal of plant physiology, 240, 152990.
2. Sanmartín, M., Ordóñez, A., Sohn, E. J., Robert, S., Sánchez-Serrano, J. J., Surpin, M. A., ... & Rojo, E. (2007). Divergent functions of VTI12 and VTI11 in trafficking to storage and lytic vacuoles in Arabidopsis. Proceedings of the National Academy of Sciences, 104(9), 3645-3650.
For Research Use Only | Not For Clinical Use.