Mouse Anti-Cattle ITGAM Antibody (MO-AB-14327R)
Certificate of Analysis Lookup
To download a Certificate of Analysis, please enter a lot number in the search box below. Note: Certificate of Analysis not available for kit components.
Lot Number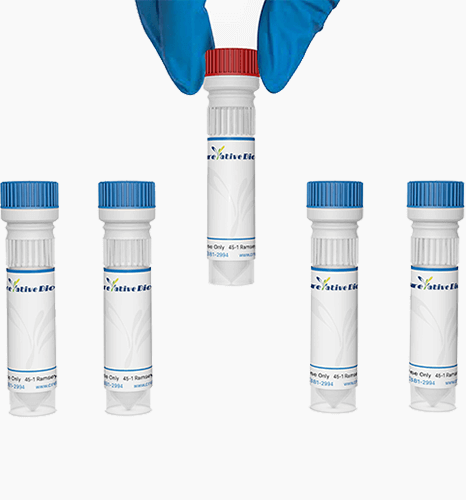 Specifications
Host species
Mouse (Mus musculus)
Species Reactivity
Cattle (Bos taurus)
Clone
MO14327R
Specificity
This antibody binds to Cattle ITGAM.
Format
Liquid or Lyophilized
Storage
Store at 4°C: short-term (1-2weeks)
Store at -20°C: long-term and future use
Purity
> 90% was determined by SDS-PAGE
Purification
Purified with Protein A or G affinity chromatography
Cellular Localization
Plasma membrane; Other locations
Application Information
Application
WB, ELISA
Application Notes
ELISA: 1:1000-1:3000
Other applications are to be developed. The optimal dilution should be determined by the end user.
Target
Introduction
Integrin αM (ITGAM) is a protein subunit that can form heterodimeric integrin α-Mbeta-2 (αMβ2) molecules, also known as macrophage-1 antigen (Mac-1) or complement receptor 3 (CR3). ITGAM, also known as CR3A, is a cluster of differentiation molecules 11B (CD11B). The second chain of αMβ2 is a common integrin β2 subunit called CD18, so integrin αMβ2 belongs to the β2 subfamily (or leukocyte) integrin.

αMβ2 is expressed on the surface of many white blood cells involved in the innate immune system, including monocytes, granulocytes, macrophages and natural killer cells. It mediates inflammation by regulating the adhesion and migration of leukocytes, and is related to various immune processes such as phagocytosis, cell-mediated cytotoxicity, chemotaxis and cell activation. It participates in the complement system because it has the ability to bind the inactivated complement component 3b (iC3b). The ITGAMα subunit of integrin αMβ2 is directly involved in causing cell adhesion and spreading, but if β2 (CD18) subunit is not present, it cannot mediate cell migration.
Product Overview
Mouse Anti-Cattle ITGAM Antibody is a mouse antibody against ITGAM. It can be used for ITGAM detection in Western Blot, Enzyme-Linked Immunosorbent Assay.
Alternative Names
Integrin alpha M; ITGAM
UniProt ID
Q24LN2
Protein Refseq
The length of the protein is 1152 amino acids long.
The sequence is show below: MALRVLLLTALALCHGFNLDTEKAVIFQNNARGFGQSVVQIQGSRLVVGAPQEVKAANQTGGLYHCDYSTGRCEAIPLQVPPEAVNMSLGLSLAFAANPFRLLACGPTVHQICKENTYANGLCFSFGSNLLQQPRRIPRALRGCPEQDSDIAFLIDGSGSIDPVDFERMKRFVSTVMSQFQKSKTLFSLMQYSDDFQTHFTFNDFKRNPVPEFLVGPIRQLFGRTHTATGIRKVVRELFHSSSGARNHAIKIMIV.
See other products for "
ITGAM
"
For Research Use Only | Not For Clinical Use.