Mouse Anti-Frog acp1 Antibody (MO-AB-01188H)
Certificate of Analysis Lookup
To download a Certificate of Analysis, please enter a lot number in the search box below. Note: Certificate of Analysis not available for kit components.
Lot Number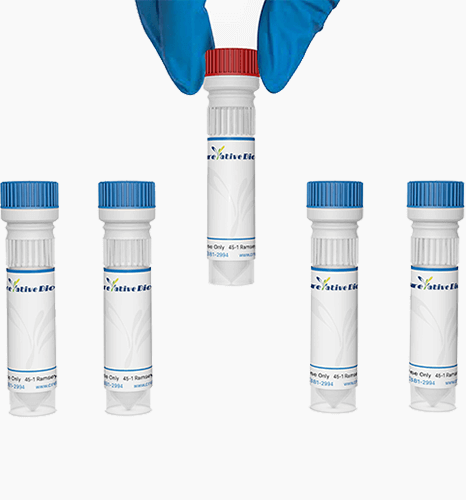 Specifications
Host species
Mouse (Mus musculus)
Species Reactivity
Frog (Xenopus laevis)
Clone
MO01188C
Specificity
This antibody binds to Frog acp1.
Format
Liquid or Lyophilized
Storage
Store at 4°C: short-term (1-2weeks)
Store at -20°C: long-term and future use
Purity
> 90% was determined by SDS-PAGE
Purification
Purified with Protein A or G affinity chromatography
Application Information
Application
WB, ELISA
Application Notes
ELISA: 1:1000-1:3000
Other applications are to be developed. The optimal dilution should be determined by the end user.
Target
Introduction
The product of this gene belongs to the phosphotyrosine protein phosphatase family of proteins. It functions as an acid phosphatase and a protein tyrosine phosphatase by hydrolyzing protein tyrosine phosphate to protein tyrosine and orthophosphate. This enzyme also hydrolyzes orthophosphoric monoesters to alcohol and orthophosphate. This gene is genetically polymorphic, and three common alleles segregating at the corresponding locus give rise to six phenotypes. Each allele appears to encode at least two electrophoretically different isozymes, Bf and Bs, which are produced in allele-specific ratios. Multiple alternatively spliced transcript variants encoding distinct isoforms have been identified for this gene.
Product Overview
This product is a mouse antibody against acp1. It can be used for acp1 detection in Western Blot, Enzyme-Linked Immunosorbent Assay.
Alternative Names
LOC100137613 protein; Low molecular weight protein tyrosine phosphatase 1b; acp1; LOC100137613
UniProt ID
Q8UWG4
Protein Refseq
The length of the protein is 159 amino acids long.
The sequence is show below: MAQQGNGKSVLFVCLGNICRSPIAEAVFQKLVTDAGISKEWSIDSAATSDWNVGSSPDSRALKCLKSHSIETSHRAQQITRDDFLSYDYILCMDESNLQDLKRRGSQVQNCKAKIELLGSYDPQKQLIIQDPYYGRDEDFETVYQQCIRCCKSFLEKSS.
See other products for "
acp1
"
For Research Use Only | Not For Clinical Use.