Mouse Anti-Nile tilapia acy1 Antibody (MO-AB-32805H)
Certificate of Analysis Lookup
To download a Certificate of Analysis, please enter a lot number in the search box below. Note: Certificate of Analysis not available for kit components.
Lot Number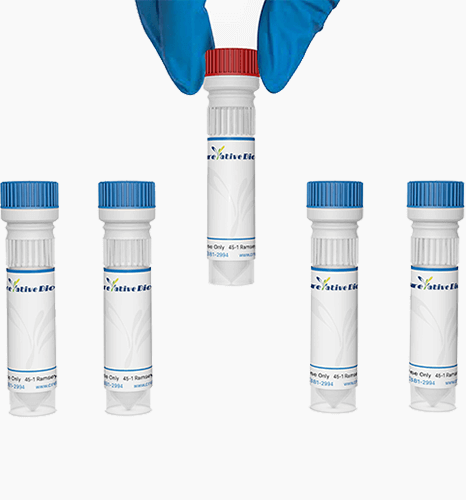 Specifications
Host species
Mouse (Mus musculus)
Species Reactivity
Nile tilapia (Oreochromis niloticus)
Clone
MO32805C
Specificity
This antibody binds to Nile tilapia acy1.
Format
Liquid or Lyophilized
Storage
Store at 4°C: short-term (1-2weeks)
Store at -20°C: long-term and future use
Purity
> 90% was determined by SDS-PAGE
Purification
Purified with Protein A or G affinity chromatography
Application Information
Application
WB, ELISA
Application Notes
ELISA: 1:1000-1:3000
Other applications are to be developed. The optimal dilution should be determined by the end user.
Target
Introduction
This gene encodes a cytosolic, homodimeric, zinc-binding enzyme that catalyzes the hydrolysis of acylated L-amino acids to L-amino acids and an acyl group, and has been postulated to function in the catabolism and salvage of acylated amino acids. This gene is located on chromosome 3p21.1, a region reduced to homozygosity in small-cell lung cancer (SCLC), and its expression has been reported to be reduced or undetectable in SCLC cell lines and tumors. The amino acid sequence of human aminoacylase-1 is highly homologous to the porcine counterpart, and this enzyme is the first member of a new family of zinc-binding enzymes. Mutations in this gene cause aminoacylase-1 deficiency, a metabolic disorder characterized by central nervous system defects and increased urinary excretion of N-acetylated amino acids. Alternative splicing of this gene results in multiple transcript variants. Read-through transcription also exists between this gene and the upstream ABHD14A (abhydrolase domain containing 14A) gene, as represented in GeneID:100526760. A related pseudogene has been identified on chromosome 18.
Product Overview
This product is a mouse antibody against acy1. It can be used for acy1 detection in Western Blot, Enzyme-Linked Immunosorbent Assay.
Alternative Names
Aminoacylase-1; EC 3.5.1.14; N-acyl-L-amino-acid amidohydrolase; LOC100694810
UniProt ID
I3KAN0
Protein Refseq
The length of the protein is 419 amino acids long.
The sequence is show below: MLPDKDGPGVGGGQSSPEGEDPSVSLFRDYLRLRTVHPEPDYDAALRFLDRIAEELELPLKKIEVFPGRVISIMTWEGTNPTLKSILLNSHTDVVPVYQEHWKYDAFSAFKDAEGNIYARGSQDMKCVTIQYIQAVRRLKARGWKPTRTLHLMFVPDEEVGGYKGMETFVKQPEFHKLNIGFALDEGLANPTDAFTVFYGERNPWWITVHCPGSPGHGSRFVENTAAEKLRHVMNSFLDFREKEKHRLNTSECFTLGDVTTVNMTMVKGGVAYNVIPAEMDVSFDLRIPPTVNLQEFERQIKQWCKEAGEDVTYDFAQKHMNQNITSTDESDPWWNAFSASCKEMNMTLKKEIFPAATDSRFIRAVGIPAIGFSPMNRTPILLHDHNEYLNEQVFLKGISVYERIIPALASVAALPDEA.
See other products for "
ACY1
"
For Research Use Only | Not For Clinical Use.