Mouse Anti-Pig CD14 Antibody (MO-AB-24426R)
Certificate of Analysis Lookup
To download a Certificate of Analysis, please enter a lot number in the search box below. Note: Certificate of Analysis not available for kit components.
Lot Number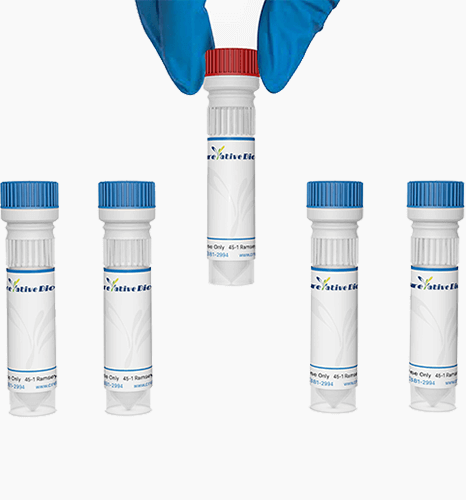 Specifications
Host species
Mouse (Mus musculus)
Species Reactivity
Pig (Sus scrofa)
Clone
MO24426R
Specificity
This antibody binds to Pig CD14.
Format
Liquid or Lyophilized
Storage
Store at 4°C: short-term (1-2weeks)
Store at -20°C: long-term and future use
Purity
> 90% was determined by SDS-PAGE
Purification
Purified with Protein A or G affinity chromatography
Cellular Localization
Plasma membrane
Application Information
Application
WB, ELISA
Application Notes
ELISA: 1:1000-1:3000
Other applications are to be developed. The optimal dilution should be determined by the end user.
Target
Introduction
CD14 (CD14 Molecule) is a Protein Coding gene. Diseases associated with CD14 include Mycobacterium Chelonae and Croup. Among its related pathways are Bacterial infections in CF airways and Development Slit-Robo signaling. Gene Ontology (GO) annotations related to this gene include lipopolysaccharide binding and lipoteichoic acid binding. Coreceptor for bacterial lipopolysaccharide. In concert with LBP, binds to monomeric lipopolysaccharide and delivers it to the LY96/TLR4 complex, thereby mediating the innate immune response to bacterial lipopolysaccharide (LPS). Acts via MyD88, TIRAP and TRAF6, leading to NF-kappa-B activation, cytokine secretion and the inflammatory response. Acts as a coreceptor for TLR2:TLR6 heterodimer in response to diacylated lipopeptides and for TLR2:TLR1 heterodimer in response to triacylated lipopeptides, these clusters trigger signaling from the cell surface and subsequently are targeted to the Golgi in a lipid-raft dependent pathway. Binds electronegative LDL (LDL) and mediates the cytokine release induced by LDL.
Product Overview
This product is a mouse antibody against CD14. It can be used for CD14 detection in Western Blot, Enzyme-Linked Immunosorbent Assay.
Alternative Names
Monocyte differentiation antigen CD14; Myeloid cell-specific leucine-rich glycoprotein; CD14
UniProt ID
A7BG66
Protein Refseq
The length of the protein is 373 amino acids long.
The sequence is show below: MVRLPCPLLLLLPLLRVSAATPEPCQIDDEDVRCVCNFTHPQPDWSSALQCVAAVEVEIRGGGRSLDEFLLKSASANPKQYADMLKALRLRRLTVGAARVPAQILALVLHALGFSRLKELTLEDLEVTGQVPPPLQETPGPALTTLRLRNVSWATGGAWLGELQQWLQPSLKVLKVAQASSLAFPCAQLRAFPALTTLDLSDNPGLGERGLTAALCPRKFPALEDLALRNAGVETPSGVCAALAGAGVQPHRLDLSHNSLRATAAGARECVWPAALSSLNLSFAELEQVPKGLPPKLTVLDLSCNKLNRAPRPEELPAVDDLTLEGNPYMDPEALQHQEDPMASGVVPPCARSALTMGVSGTLALLQGARGFA.
See other products for "
CD14
"
For Research Use Only | Not For Clinical Use.