Mouse Anti-Arabidopsis BRCA1 Antibody (CBMOAB-25468FYC)
Certificate of Analysis Lookup
To download a Certificate of Analysis, please enter a lot number in the search box below. Note: Certificate of Analysis not available for kit components.
Lot Number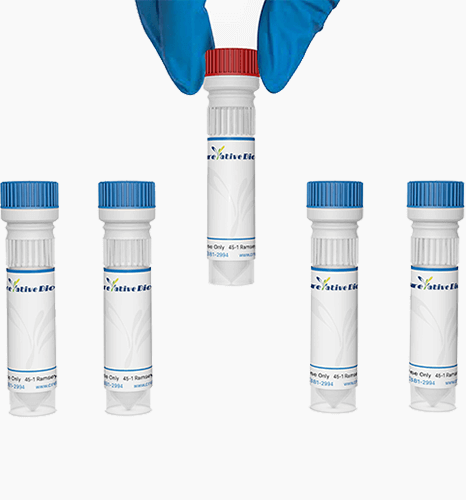 Specifications
Host species
Mouse (Mus musculus)
Species Reactivity
A. thaliana (Arabidopsis thaliana)
Clone
MO25468FC
Specificity
This antibody binds to Arabidopsis BRCA1.
Format
Liquid or Lyophilized
Storage
Store at 4°C: short-term (1-2weeks)
Store at -20°C: long-term and future use
Purity
> 90% was determined by SDS-PAGE
Purification
Purified with Protein A or G affinity chromatography
Cellular Localization
Nucleus; Plasma Membrane
Application Information
Application
WB, ELISA
Application Notes
ELISA: 1:1000-1:3000
Other applications are to be developed. The optimal dilution should be determined by the end user.
Target
| | |
| --- | --- |
| Introduction | This gene encodes a nuclear phosphoprotein that plays a role in maintaining genomic stability, and it also acts as a tumor suppressor. The encoded protein combines with other tumor suppressors, DNA damage sensors, and signal transducers to form a large multi-subunit protein complex known as the BRCA1-associated genome surveillance complex (BASC). This gene product associates with RNA polymerase II, and through the C-terminal domain, also interacts with histone deacetylase complexes. This protein thus plays a role in transcription, DNA repair of double-stranded breaks, and recombination. Mutations in this gene are responsible for approximately 40% of inherited breast cancers and more than 80% of inherited breast and ovarian cancers. Alternative splicing plays a role in modulating the subcellular localization and physiological function of this gene. Many alternatively spliced transcript variants, some of which are disease-associated mutations, have been described for this gene, but the full-length natures of only some of these variants has been described. A related pseudogene, which is also located on chromosome 17, has been identified. |
| Product Overview | Mouse Anti-Arabidopsis BRCA1 Antibody is a mouse antibody against BRCA1. It can be used for BRCA1 detection in Western Blot, Enzyme-Linked Immunosorbent Assay. |
| Alternative Names | BRCA1, DNA Repair Associated; Protein Phosphatase 1, Regulatory Subunit 53; BRCA1/BRCA2-Containing Complex, Subunit 1; Fanconi Anemia, Complementation Group S; Breast Cancer 1, Early Onset; RING Finger Protein 53; RNF53; Breast And Ovarian Cancer Susceptibility Protein 1; Breast Cancer Type 1 Susceptibility Protein; RING-Type E3 Ubiquitin Transferase BRCA1; Early Onset Breast Cancer 1; Breast Cancer 1 |
| UniProt ID | Q8RXD4 |
| Protein Refseq | The length of the protein is 941 amino acids long. The sequence is show below: MADTSHLERMGRELKCPICLSLYNSAVSLSCNHVFCNACIVKSMKMDATCPVCKIPYHRREIRGAPHMDSLVSIYKNMEDASGIKLFVSQNNPSPSDKEKQVRDASVEKASDKNRQGSRKGRASKRNEYGKTKEIDVDAPGPIVMKPSSQTKKRVQLLQNLSAESLTKPTESVETAEKPKDYTENTVIRLDEHPSLNKEGNLSPFFWLRDEDDGENSSQRTESDQLLGTTPVNVPSFSDLMDSDHESPSKEDEQQKPNPGDMFDSEMFEWTQRPCSPEILPSPVKAKVLGRDEIDLTQKKLPKVKVASSKCKNRKAGSARNTVARRSIGVSQEDNMESSAAATISEQQDSRGTSGTIIRNDVNTDENVKAKRATRSKAQSTRVQSDLNVSNEADGKQGTKRKRSSIKSSPAHPIAGPNELSLGTEIVGKGDQDQAHGPSDTHPEKRSPTEKPSLKKRGRKSNASSSLKDLSGKTQKKTSEKKLKLDSHMISSKATQPHGNGILTAGLNQGGDKQDSRNNRKSTVGKDDHTMQVIEKCSTINKSSSGGSAHLRRCNGSLTKKFTCAFCQCSEDTEASGEMTHYYRGEPVSADFNGGSKVIHVHKNCAEWAPNVYFNDLTIVNLDVELTRSRRISCSCCGLKGAALGCYNKSCKNSFHVTCAKLIPECRWDNVKFVMLCPLDASIKLPCEEANSKDRKCKRTPKEPLHSQPKQVSGKANIRELHIKQFHGFSKKLVLSCSGLTVEEKTVIAEFAELSGVTISKNWDSTVTHVIASINENGACKRTLKFMMAILEGKWILTIDWIKACMKNTKYVSEEPYEITMDVHGIREGPYLGRQRALKKKPKLFTGLKFYIMGDFELAYKGYLQDLIVAAGGTILRRRPVSSDDNEASTIVVFSVEPSKKKTLTQRRSDAEALAKSARARAASSSWVLDSIAGCQILVLI. |
See other products for "
BRCA1
"
For Research Use Only | Not For Clinical Use.