Epigenetics
Today, epigenetic mechanisms already have many shreds of evidence linking them with a wide variety of illnesses, behaviors, and other health indicators, including almost all types of cancers, cognitive dysfunction, and respiratory, cardiovascular, reproductive, autoimmune, and neurobehavioral illnesses. Supported by in-house scientists and first-class technical platform, Creative Biolabs provides antibody products involved in the research for a variety of epigenetics.
Background
Epigenetics is the study of heritable changes in gene expression which occur independently of changes in the primary DNA sequence. Epigenetic changes affect gene expression in different ways. The classification of epigenetic includes the following three:
Principle of DNA methylation is to add a chemical group to DNA. Generally, the group is added to specific places on the DNA, where it blocks the proteins that attach to DNA. This chemical group can be removed through a process called demethylation.
DNA wraps around proteins called histones. DNA wrapped tightly around histones cannot be accessed by proteins that "read" the gene. Chemical groups can be added or removed from histones and change whether a gene is unwrapped or wrapped.
DNA is used as instructions to make coding and non-coding RNA. Coding RNA is used to make proteins and non-coding RNA helps control gene expression by attaching to coding RNA, along with certain proteins, to break down the coding RNA so that it cannot be used to make proteins. Non-coding RNA may also recruit proteins to modify histones.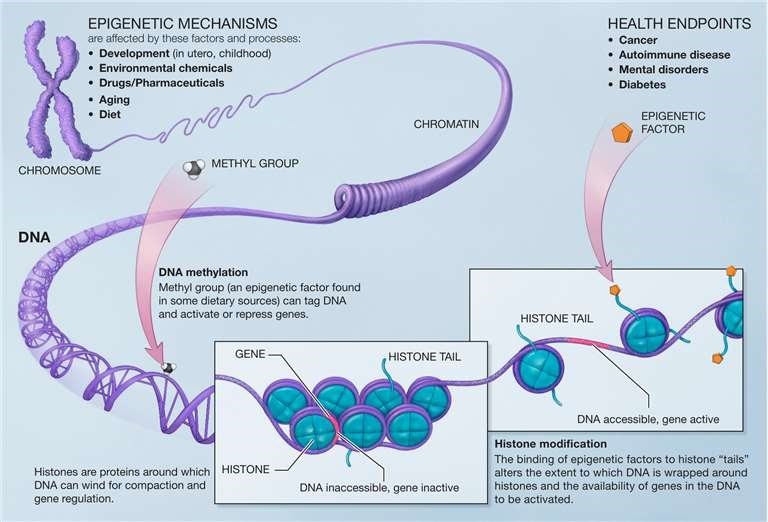 Fig.1 Epigenetics mechanism. (Wikipedia)
Failure of the proper maintenance of heritable epigenetic marks can result in inappropriate activation or inhibition of various signaling pathways and lead to disease states such as cancer.
Research Area of Epigenetics in Zebrafish
Zebrafish primordial germ cells are predetermined by germplasm and are not induced through epigenetic mechanisms. The maternal genome of zebrafish undergoes demethylation during embryonic development, whereas the paternal zebrafish genome is resistant to demethylation.
The major role of histone modifications pertaining to zebrafish lies during the early embryogenesis. Histone's counterparts have been identified to play a prominent role in zebrafish development, including histone variants, HATs, HDACs, HMTs, and so on. Apart from the normal histones, some variants substitute the normal histones and are found to be involved in zebrafish development including H2afv, H2af1o, Macro H2A.
The miR-430 family (miR-430a, miR-430b, and miR-430c) promotes degradation of Smarca2, a chromatin remodeling protein and promotes genome-wide heterochromatin formation in zebrafish. Besides, miR-ntu1 plays a prominent role in angiogenesis by regulating Notch signaling, which is the first report in zebrafish where rRNA-derived miRNA's role in vertebrate development has been identified.
As a reliable provider of antibody products, scientists at
Creative Biolabs
provide antibody products involved in the research for a variety of these epigenetics. For further details, please feel free to
contact us
.
Our provided featured target antibody products including but not limited to:
For Research Use Only | Not For Clinical Use.
Certificate of Analysis Lookup
To download a Certificate of Analysis, please enter a lot number in the search box below. Note: Certificate of Analysis not available for kit components.
Lot Number