Supported by in-house scientists and first-in-class technical platform, Creative Biolabs offers C. elegans antibody for scientist to establish a broader context and improved tools for studying its biology.
Background
Caenorhabditis elegans is a nematode (roundworm) that lives in soil and is used as a model organism in molecular genetics and developmental biology. It is hermaphrodite (can be self-fertilized) and transparent and can map the location and fate of every cell in the body.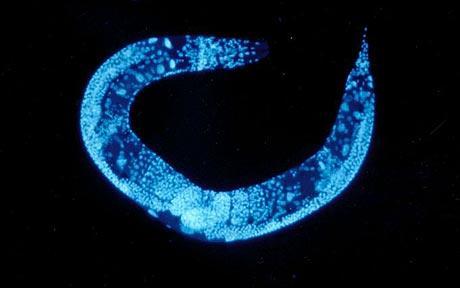 Caenorhabditis elegans is an important model system for biological research in many fields such as genomics, cell biology, neuroscience and aging. Its many advantages include short life cycle, compact genome, stereotyped development, easy reproduction and small size. Caenorhabditis elegans is suitable for genetic crossing as each adult produces a large number of offspring. Under optimal conditions, its life cycle is approximately 3 days. They can be raised in laboratories and grown on agar plates or liquid cultures with E. coli as food source. Since C. elegans is transparent throughout its life cycle, it can be inspected at the cellular level of live preparations with a differential interference contrast (DIC) microscope. The anatomical description of the entire animal has been completed under the electron microscope, and a complete cell lineage that remains unchanged between animals has been established.
Why choose C. elegans as a model organism?
C. elegans as a model for mitochondrial diseases.

Studies using Caenorhabditis elegans found that human genes responsible for a variety of mitochondrial diseases have orthologous genes in Caenorhabditis elegans, making it possible to use C. elegans as a model organism for studying mitochondrial diseases.

C. elegans is an attractive in vivo model for the whole organism to be used to identify the antioxidative activity of natural compounds.

In C. elegans, oxidative stress signal pathways are highly conserved, including the insulin signaling pathway, TOR signaling pathway, autophagy pathway, as well as active oxygen detoxification mechanism such as superoxide dismutase and catalase.

Fig.1 The fields of C. elegans used for the screening natural compounds.
C. elegans provides a unique opportunity to study the function of the nervous system.

Nervous system is extremely simple consisting of only 302 neurons, and all the chemical and electrical synapses have been identified by successive section reconstruction of electron micrographs. This whole map of connectome contributes to generate and test hypotheses for how a behavior is encoded by the neural circuitry.

C. elegans can be a candidate for the study of understanding the role of genetics in modulating aging.

There are several unique characteristics that serve C. elegans an ideal model organism for studying aging. Firstly, the model has a very short lifespan (~3 weeks) invariantly, which helps to identify mutants with shorter or longer average lifespans. Secondly, the somatic cells in adult are postmitotic, which makes it possible to study chronological aging. In addition, some important signaling pathways related aging and longevity, such as insulin/IGF-1 and dietary restriction (DR), have also been extensively studied to analyze the molecular mechanisms involved of aging.

C. elegans as a model for immunology.

The immune system is divided into innate immunity and adaptive immunity.

In C. elegans, only innate immune response is seen. This includes antibiotic molecules, such as lectins, lysozyme and other antibacterial molecules. Caenorhabditis elegans can be used as a model organism to study the innate immune response to pathogens.
In general, C. elegans makes a great model organism candidate for their low cost and short reproductive time. The wide applications of C. elegans will bring greater enlightenment to the study of neurobiology, tumorigenesis, aging. the screening of natural compounds for human diseases.
Scientists at Creative Biolabs are dedicated to bringing together years of valuable experience to help our clients shorten the research journey. We are committed to the C. elegans antibody products and services, and dedicated to reducing the overall project development timeline for our clients.
Our provided hot target antibody products include the followings, but not limited to:
Target Selection
For further details, please don't hesitate to
contact us
.
Reference
Hsiu V, Liao C. Use of Caenorhabditis elegans to study the potential bioactivity of natural compounds. J. Agric. Food Chem. 2018.
| | | | | | | |
| --- | --- | --- | --- | --- | --- | --- |
| Cat# | Product Name | Host species | Species Reactivity | Application | Size | Conjugate |
| CBMOAB-00001HCB | Mouse Anti-C. elegans ATHP1 (clone MO00001HB) Antibody (CBMOAB-00001HCB) | Mouse | C elegans | WB, ELISA | 200µg | NONE |
| CBMOAB-00002HCB | Mouse Anti-C. elegans BATH3 (clone MO00002HB) Antibody (CBMOAB-00002HCB) | Mouse | C elegans | WB, ELISA | 200µg | NONE |
| CBMOAB-00003HCB | Mouse Anti-C. elegans CDC25.3 (clone MO00003HB) Antibody (CBMOAB-00003HCB) | Mouse | C elegans | WB, ELISA | 200µg | NONE |
| CBMOAB-00004HCB | Mouse Anti-C. elegans CEH45 (clone MO00004HB) Antibody (CBMOAB-00004HCB) | Mouse | C elegans | WB, ELISA | 200µg | NONE |
| CBMOAB-00005HCB | Mouse Anti-C. elegans CEHD22 (clone MO00005HB) Antibody (CBMOAB-00005HCB) | Mouse | C elegans | WB, ELISA | 200µg | NONE |
| CBMOAB-00006HCB | Mouse Anti-C. elegans CES1 (clone MO00006HB) Antibody (CBMOAB-00006HCB) | Mouse | C elegans | WB, ELISA | 200µg | NONE |
| CBMOAB-00007HCB | Mouse Anti-C. elegans CKY1 (clone MO00007HB) Antibody (CBMOAB-00007HCB) | Mouse | C elegans | WB, ELISA | 200µg | NONE |
| CBMOAB-00008HCB | Mouse Anti-C. elegans CLEC33 (clone MO00008HB) Antibody (CBMOAB-00008HCB) | Mouse | C elegans | WB, ELISA | 200µg | NONE |
| CBMOAB-00009HCB | Mouse Anti-C. elegans CLEC49 (clone MO00009HB) Antibody (CBMOAB-00009HCB) | Mouse | C elegans | WB, ELISA | 200µg | NONE |
| CBMOAB-00010HCB | Mouse Anti-C. elegans CLEC54 (clone MO00010HB) Antibody (CBMOAB-00010HCB) | Mouse | C elegans | WB, ELISA | 200µg | NONE |
| CBMOAB-00011HCB | Mouse Anti-C. elegans CLEC81 (clone MO00011HB) Antibody (CBMOAB-00011HCB) | Mouse | C elegans | WB, ELISA | 200µg | NONE |
| CBMOAB-00012HCB | Mouse Anti-C. elegans COGC4 (clone MO00012HB) Antibody (CBMOAB-00012HCB) | Mouse | C elegans | WB, ELISA | 200µg | NONE |
| CBMOAB-00013HCB | Mouse Anti-C. elegans COL10 (clone MO00013HB) Antibody (CBMOAB-00013HCB) | Mouse | C elegans | WB, ELISA | 200µg | NONE |
| CBMOAB-00014HCB | Mouse Anti-C. elegans COL164 (clone MO00014HB) Antibody (CBMOAB-00014HCB) | Mouse | C elegans | WB, ELISA | 200µg | NONE |
| CBMOAB-00015HCB | Mouse Anti-C. elegans COL181 (clone MO00015HB) Antibody (CBMOAB-00015HCB) | Mouse | C elegans | WB, ELISA | 200µg | NONE |
| CBMOAB-00016HCB | Mouse Anti-C. elegans COL2 (clone MO00016HB) Antibody (CBMOAB-00016HCB) | Mouse | C elegans | WB, ELISA | 200µg | NONE |
| CBMOAB-00017HCB | Mouse Anti-C. elegans COL86 (clone MO00017HB) Antibody (CBMOAB-00017HCB) | Mouse | C elegans | WB, ELISA | 200µg | NONE |
| CBMOAB-00018HCB | Mouse Anti-C. elegans COQ3 (clone MO00018HB) Antibody (CBMOAB-00018HCB) | Mouse | C elegans | WB, ELISA | 200µg | NONE |
| CBMOAB-00019HCB | Mouse Anti-C. elegans COX1 (clone MO00019HB) Antibody (CBMOAB-00019HCB) | Mouse | C elegans | WB, ELISA | 200µg | NONE |
| CBMOAB-00020HCB | Mouse Anti-C. elegans COX15 (clone MO00020HB) Antibody (CBMOAB-00020HCB) | Mouse | C elegans | WB, ELISA | 200µg | NONE |
| CBMOAB-00021HCB | Mouse Anti-C. elegans COX3 (clone MO00021HB) Antibody (CBMOAB-00021HCB) | Mouse | C elegans | WB, ELISA | 200µg | NONE |
| CBMOAB-00022HCB | Mouse Anti-C. elegans CPR3 (clone MO00022HB) Antibody (CBMOAB-00022HCB) | Mouse | C elegans | WB, ELISA | 200µg | NONE |
| CBMOAB-00023HCB | Mouse Anti-C. elegans CPSF1 (clone MO00023HB) Antibody (CBMOAB-00023HCB) | Mouse | C elegans | WB, ELISA | 200µg | NONE |
| CBMOAB-00024HCB | Mouse Anti-C. elegans CPX2 (clone MO00024HB) Antibody (CBMOAB-00024HCB) | Mouse | C elegans | WB, ELISA | 200µg | NONE |
| CBMOAB-00025HCB | Mouse Anti-C. elegans CSB1 (clone MO00025HB) Antibody (CBMOAB-00025HCB) | Mouse | C elegans | WB, ELISA | 200µg | NONE |
| CBMOAB-00026HCB | Mouse Anti-C. elegans CSK1 (clone MO00026HB) Antibody (CBMOAB-00026HCB) | Mouse | C elegans | WB, ELISA | 200µg | NONE |
| CBMOAB-00027HCB | Mouse Anti-C. elegans CST1 (clone MO00027HB) Antibody (CBMOAB-00027HCB) | Mouse | C elegans | WB, ELISA | 200µg | NONE |
| CBMOAB-00028HCB | Mouse Anti-C. elegans CUP5 (clone MO00028HB) Antibody (CBMOAB-00028HCB) | Mouse | C elegans | WB, ELISA | 200µg | NONE |
| CBMOAB-00029HCB | Mouse Anti-C. elegans CUT5 (clone MO00029HB) Antibody (CBMOAB-00029HCB) | Mouse | C elegans | WB, ELISA | 200µg | NONE |
| CBMOAB-00030HCB | Mouse Anti-C. elegans CUTL15 (clone MO00030HB) Antibody (CBMOAB-00030HCB) | Mouse | C elegans | WB, ELISA | 200µg | NONE |
| CBMOAB-00031HCB | Mouse Anti-C. elegans CUTL29 (clone MO00031HB) Antibody (CBMOAB-00031HCB) | Mouse | C elegans | WB, ELISA | 200µg | NONE |
| CBMOAB-00032HCB | Mouse Anti-C. elegans CYN16 (clone MO00032HB) Antibody (CBMOAB-00032HCB) | Mouse | C elegans | WB, ELISA | 200µg | NONE |
| CBMOAB-00033HCB | Mouse Anti-C. elegans CYP13A12 (clone MO00033HB) Antibody (CBMOAB-00033HCB) | Mouse | C elegans | WB, ELISA | 200µg | NONE |
| CBMOAB-00034HCB | Mouse Anti-C. elegans CYP32A1 (clone MO00034HB) Antibody (CBMOAB-00034HCB) | Mouse | C elegans | WB, ELISA | 200µg | NONE |
| CBMOAB-00035HCB | Mouse Anti-C. elegans CYP33C1 (clone MO00035HB) Antibody (CBMOAB-00035HCB) | Mouse | C elegans | WB, ELISA | 200µg | NONE |
| CBMOAB-00036HCB | Mouse Anti-C. elegans D1005.1 (clone MO00036HB) Antibody (CBMOAB-00036HCB) | Mouse | C elegans | WB, ELISA | 200µg | NONE |
| CBMOAB-00037HCB | Mouse Anti-C. elegans D1005.1 (clone MO00037HB) Antibody (CBMOAB-00037HCB) | Mouse | C elegans | WB, ELISA | 200µg | NONE |
| CBMOAB-00038HCB | Mouse Anti-C. elegans DAF22 (clone MO00038HB) Antibody (CBMOAB-00038HCB) | Mouse | C elegans | WB, ELISA | 200µg | NONE |
| CBMOAB-00039HCB | Mouse Anti-C. elegans DAPK1 (clone MO00039HB) Antibody (CBMOAB-00039HCB) | Mouse | C elegans | WB, ELISA | 200µg | NONE |
| CBMOAB-00040HCB | Mouse Anti-C. elegans DCT10 (clone MO00040HB) Antibody (CBMOAB-00040HCB) | Mouse | C elegans | WB, ELISA | 200µg | NONE |
| CBMOAB-00041HCB | Mouse Anti-C. elegans DCT13 (clone MO00041HB) Antibody (CBMOAB-00041HCB) | Mouse | C elegans | WB, ELISA | 200µg | NONE |
| CBMOAB-00042HCB | Mouse Anti-C. elegans DENN4 (clone MO00042HB) Antibody (CBMOAB-00042HCB) | Mouse | C elegans | WB, ELISA | 200µg | NONE |
| CBMOAB-00043HCB | Mouse Anti-C. elegans DENN4 (clone MO00043HB) Antibody (CBMOAB-00043HCB) | Mouse | C elegans | WB, ELISA | 200µg | NONE |
| CBMOAB-00044HCB | Mouse Anti-C. elegans DIP2 (clone MO00044HB) Antibody (CBMOAB-00044HCB) | Mouse | C elegans | WB, ELISA | 200µg | NONE |
| CBMOAB-00045HCB | Mouse Anti-C. elegans DIP2 (clone MO00045HB) Antibody (CBMOAB-00045HCB) | Mouse | C elegans | WB, ELISA | 200µg | NONE |
| CBMOAB-00046HCB | Mouse Anti-C. elegans DML1 (clone MO00046HB) Antibody (CBMOAB-00046HCB) | Mouse | C elegans | WB, ELISA | 200µg | NONE |
| CBMOAB-00047HCB | Mouse Anti-C. elegans DMSR13 (clone MO00047HB) Antibody (CBMOAB-00047HCB) | Mouse | C elegans | WB, ELISA | 200µg | NONE |
| CBMOAB-00048HCB | Mouse Anti-C. elegans DMSR4 (clone MO00048HB) Antibody (CBMOAB-00048HCB) | Mouse | C elegans | WB, ELISA | 200µg | NONE |
| CBMOAB-00049HCB | Mouse Anti-C. elegans DNJ15 (clone MO00049HB) Antibody (CBMOAB-00049HCB) | Mouse | C elegans | WB, ELISA | 200µg | NONE |
| CBMOAB-00050HCB | Mouse Anti-C. elegans DOT1.1 (clone MO00050HB) Antibody (CBMOAB-00050HCB) | Mouse | C elegans | WB, ELISA | 200µg | NONE |