Overview
Avi-Tag tagged antibodies can be biotinylated in vitro or in vivo. Avidin or streptavidin can specifically bind to biotin, which can be used for antibody immobilization, purification, and visualization. Creative Biolabs provides best-in-class, highest quality recombinant antibodies for biotinylation, with an optimized process ensuring high labeling efficiency and batch-to-batch consistency.
Applications
The Avi-Tag is a novel and fashion fusion tag due to its powerful and versatile properties. Biotinylated antibodies are powerful tools used in a wide range of assays, including immunoprecipitation, flow cytometry, immunoassays, biopanning, surface plasmon resonance, and so on. Avi-Tag can be fused to provid a versatile system suitable for many applications, including but not limited to the following:

The simplicity of the Avi-Tag system allows antibodies to be uniformly tethered to almost any chromatography media, surface microtiter plate, biosensor chips, and nitrocellulose/PVDF membranes. Avi-Tag has already demonstrated itself as an adaptable tool for antibody purification, cell sorting, and sensitive detection. Avi-Tag has a myriad of industrial and medical applications and its use in the following areas is growing rapidly: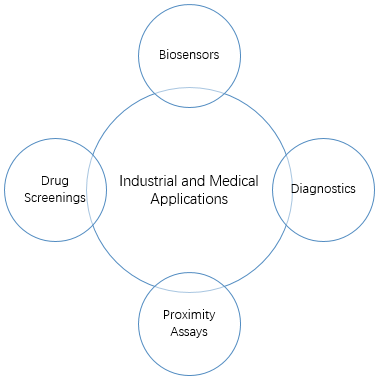 Advantages
Highly specific and sensitive detection
The biotinylation of recombinant antibodies with Avi-Tag is highly specific. In the presence of biotin and ATP, the biotin ligase catalyzes the amide bond between biotin and the specific lysine of the 15-aa Avi-Tag peptide.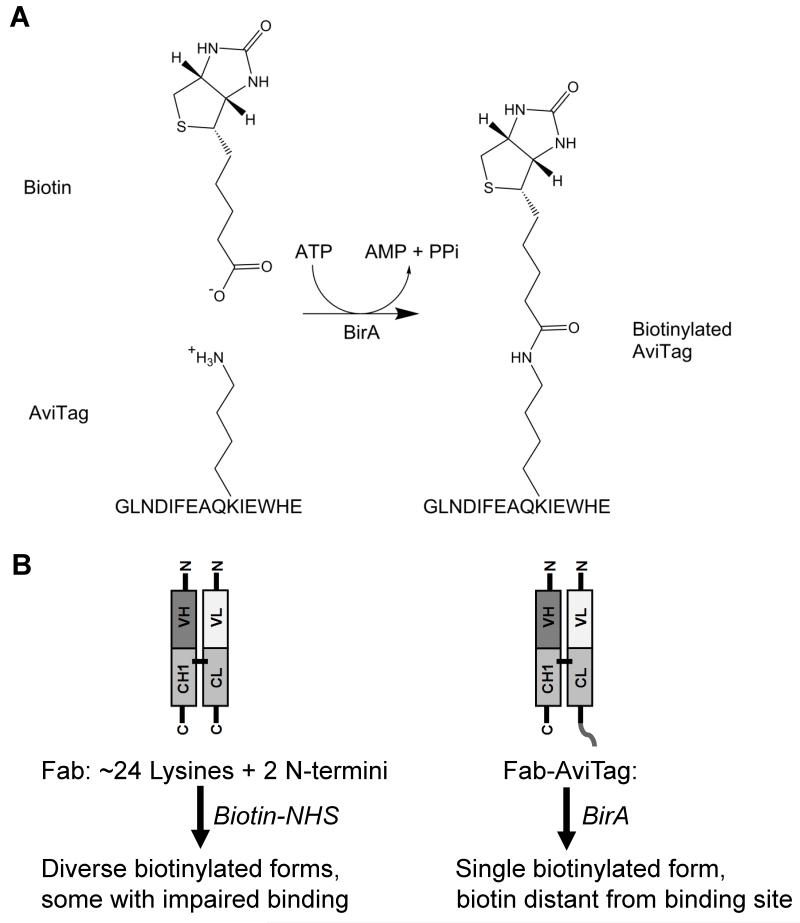 Figure 1. Principle of BirA use.
Stability over chemical biotin-labeling

Creative Biolabs offers both Avi-Tag biotinylated service and chemical biotin-labeling.
Chemical biotin labeling may conjugate biotin to the catalytic or binding region of the antibody due to random biotin labeling, resulting in inactivation of the antibody. With Avi-Tag, biotin labeling occurs on the single lysine residue in the Avi-Tag, virtually any antibody can be easily and efficiently biotinylated in vivo or in vitro.
Using Avi-Tag for biotin labeling can be highly specifically labeled under gentle conditions.
The chemical biotin tag has 85 amino acids, while the biotin Avi-Tag has only 15 amino acids, which can minimize the impact of the tag on the spatial structure of the antibody.
Avi-Tag biotin labeling with equivalent bioactivity. Biotin labeling is restricted to the Avi-Tag, the rest of the antibody is unchanged so there is no interference in the antibody's bioactivity.
List of Expression Vectors With Avi-Tag Art Technique Service
Using the developed vector, Avi-Tag can be located at the N-terminus or C-terminus of the fusion antibody, or the position of the internal antibody with a peptide domain, forming a surface-exposed loop that can be accessed by the BirA enzyme. Avi-Tag is also used as a spacer to promote the interaction of antibody and binding partners. Creative Biolabs is excited to announce its new sets of vectors below. Including but not limited to the following:
| Vector | Tag | Host Cell |
| --- | --- | --- |
| MO-B09 | N-Avi | Bacterial |
| MO-WG04 | N-Avi-SUMO | Cell-free |
| MO-WG05 | N-His-Avi-SUMO | Cell-free |
| MO-WG31 | N-His-SUMO-Avi | Cell-free |
| Vector | Tag | Host Cell | Selection Marker |
| --- | --- | --- | --- |
| MO-Lv108 | N-Avi | Lentiviral | Puromycin |
| MO-Lv124 | C-Avi | Lentiviral | Puromycin |
| MO-Lv242 | C-Avi-FLAG | Lentiviral | Puromycin |
| MO-M05 | N-Avi | Mammalian | Neomycin |
| MO-M17 | C-Avi | Mammalian | Neomycin |
| MO-M48 | N-Avi+IRES-Biotin ligase | Mammalian | Neomycin |
| MO-M62 | C-Avi-IRES-Biotin ligase | Mammalian | Neomycin |
| Vector | Tag | Host Cell | Selection Marker |
| --- | --- | --- | --- |
| MO-Lv243 | C-Avi-Flag-SV40-Puromycin | Lentiviral | Puromycin |
Features at Creative Biolabs
Avi-Tag technology has garnered notice around the world. Creative Biolabs' Avi-Tag technique is oriented on streptavidin-coated surfaces, this creates an ideal presentation for molecular binding interactions. Creative Biolabs is committed to developing and marketing innovative products using our vigorous Avi-Tag technology. Please feel free to contact us.
Reference
Fairhead M, Howarth M. Site-specific biotinylation of purified proteins using BirA[M]//Site-Specific Protein Labeling. Humana Press, New York, NY, 2015: 171-184.
For Research Use Only | Not For Clinical Use.