Mouse Anti-Cattle MYL2 Antibody (MO-AB-16294R)
Certificate of Analysis Lookup
To download a Certificate of Analysis, please enter a lot number in the search box below. Note: Certificate of Analysis not available for kit components.
Lot Number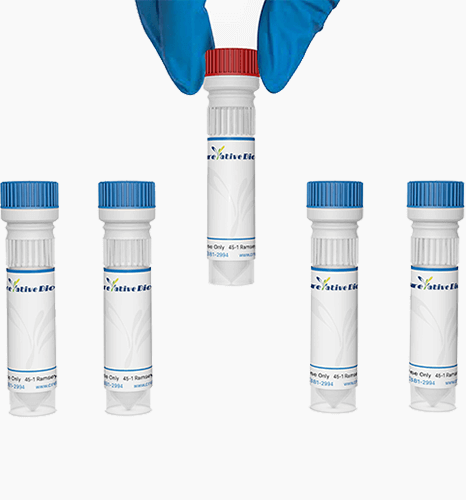 Specifications
Host species
Mouse (Mus musculus)
Species Reactivity
Cattle (Bos taurus)
Clone
MO16294R
Specificity
This antibody binds to Cattle MYL2.
Format
Liquid or Lyophilized
Storage
Store at 4°C: short-term (1-2weeks)
Store at -20°C: long-term and future use
Purity
> 90% was determined by SDS-PAGE
Purification
Purified with Protein A or G affinity chromatography
Cellular Localization
Cytoskeleton; Other locations
Application Information
Application
WB, ELISA
Application Notes
ELISA: 1:1000-1:3000
Other applications are to be developed. The optimal dilution should be determined by the end user.
Target
Introduction
Contractile protein that plays a role in heart development and function (By similarity). Following phosphorylation, plays a role in cross-bridge cycling kinetics and cardiac muscle contraction by increasing myosin lever arm stiffness and promoting myosin head diffusion; as a consequence of the increase in maximum contraction force and calcium sensitivity of contraction force. These events altogether slow down myosin kinetics and prolong duty cycle resulting in accumulated myosins being cooperatively recruited to actin binding sites to sustain thin filament activation as a means to fine-tune myofilament calcium sensitivity to force (By similarity). During cardiogenesis plays an early role in cardiac contractility by promoting cardiac myofibril assembly (By similarity).
Product Overview
Mouse Anti-Cattle MYL2 Antibody is a mouse antibody against MYL2. It can be used for MYL2 detection in Western Blot, Enzyme-Linked Immunosorbent Assay.
Alternative Names
Myosin regulatory light chain 2, ventricular/cardiac muscle isoform; MLC-2; MLC-2v; MYL2
UniProt ID
Q3SZE5
Protein Refseq
The length of the protein is 166 amino acids long.
The sequence is show below: MSPKKAKKRAEGANYNVFSMFEQTQIQEFKEAFTIMDQNRDGFIDKNDLRDTFAALGRVNVKNEEIDEMLKEAPGPINFTVFLQMFGEKLKGADPEETILNAFKVFDPEGKGVLKADYIKEMLTTQAERFSKEEIDQMFAAFPPDVTGNLDYKNLVHIITHGEEKD.
See other products for "
MYL2
"
For Research Use Only | Not For Clinical Use.