Mouse Anti-ATM Antibody (MOFAB-051W)
Certificate of Analysis Lookup
To download a Certificate of Analysis, please enter a lot number in the search box below. Note: Certificate of Analysis not available for kit components.
Lot Number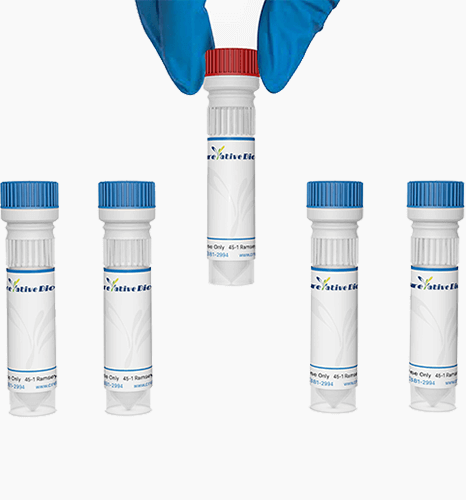 Specifications
Host species
Mouse
Species Reactivity
Human, Mouse, Rat, Monkey
Specificity
This antibody recognizes full-length ATM, a 370 kD nucleophosmin involved in the autorecessive genetic disease ataxia telangiectasia (AT). ATM belongs to a novel family of proteins involved in cell cycle regulation and DNA repair responses. The C-terminal region shares extensive homology with the catalytic domain of phosphatidylinositol 3-kinase (PI3 kinase). Its usefulness for monitoring altered ATM expression in cancer is under active investigation.
Immunogen
The GST fusion protein expressed in E. coli corresponds to amino acids 2577-3056 of full-length ATM.
Format
Liquid or Lyophilized
Buffer
PBS, pH 7.4
Regulatory Status
For Research Use Only
Shipping
Gel Pack
Storage
Store at 4°C: short-term (1-2weeks)
Store at -20°C: long-term and future use
Purification
Protein G
Application Information
Application
IB, IP
Application Notes
IB: 1-10 ug/ml
IP: 1-10 ug/ml
The optimal dilution should be determined by the end user.
Target
| | |
| --- | --- |
| Introduction | The protein encoded by this gene belongs to the PI3/PI4-kinase family. This protein is an important cell cycle checkpoint kinase that phosphorylates; thus, it functions as a regulator of a wide variety of downstream proteins, including tumor suppressor proteins p53 and BRCA1, checkpoint kinase CHK2, checkpoint proteins RAD17 and RAD9, and DNA repair protein NBS1. This protein and the closely related kinase ATR are thought to be master controllers of cell cycle checkpoint signaling pathways that are required for cell response to DNA damage and for genome stability. Mutations in this gene are associated with ataxia telangiectasia, an autosomal recessive disorder. |
| Product Overview | The ATM antibody is used as Cancer Research. |
| Alternative Names | ATM Serine/Threonine Kinase; Ataxia Telangiectasia Mutated; A-T Mutated; EC 2.7.11.1; Ataxia Telangiectasia Mutated (Includes Complementation Groups A, C And D); TEL1, Telomere Maintenance 1, Homolog (S. Cerevisiae); TEL1, Telomere Maintenance 1, Homolog; Serine-Protein Kinase ATM; AT Mutated; ATM |
| Gene ID | 472 |
| UniProt ID | Q13315 |
See other products for "
ATM
"
For Research Use Only | Not For Clinical Use.