Mouse Anti-Rhesus GPX4 Antibody (CBMOAB-44072FYA)
Certificate of Analysis Lookup
To download a Certificate of Analysis, please enter a lot number in the search box below. Note: Certificate of Analysis not available for kit components.
Lot Number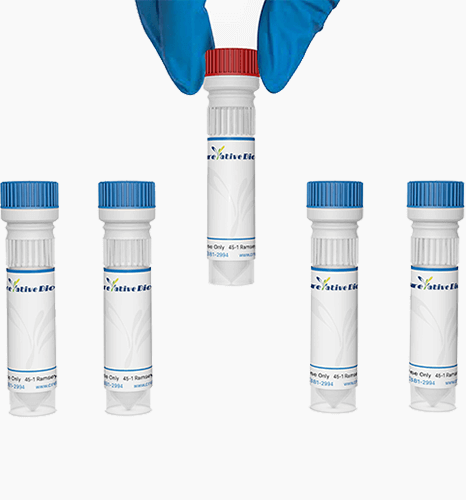 Specifications
Host species
Mouse (Mus musculus)
Species Reactivity
Rhesus (Macaca mulatta)
Clone
MO44072FYA
Specificity
This antibody binds to Rhesus GPX4.
Format
Liquid or Lyophilized
Storage
Store at 4°C: short-term (1-2weeks)
Store at -20°C: long-term and future use
Purity
> 90% was determined by SDS-PAGE
Purification
Purified with Protein A or G affinity chromatography
Application Information
Application
WB, ELISA
Application Notes
ELISA: 1:1000-1:3000
Other applications are to be developed. The optimal dilution should be determined by the end user.
Target
Introduction
The protein encoded by this gene belongs to the glutathione peroxidase family, members of which catalyze the reduction of hydrogen peroxide, organic hydroperoxides and lipid hydroperoxides, and thereby protect cells against oxidative damage. Several isozymes of this gene family exist in vertebrates, which vary in cellular location and substrate specificity. This isozyme has a high preference for lipid hydroperoxides and protects cells against membrane lipid peroxidation and cell death. It is also required for normal sperm development; thus, it has been identified as a 'moonlighting' protein because of its ability to serve dual functions as a peroxidase, as well as a structural protein in mature spermatozoa. Mutations in this gene are associated with Sedaghatian type of spondylometaphyseal dysplasia (SMDS). This isozyme is also a selenoprotein, containing the rare amino acid selenocysteine (Sec) at its active site. Sec is encoded by the UGA codon, which normally signals translation termination. The 3' UTRs of selenoprotein mRNAs contain a conserved stem-loop structure, designated the Sec insertion sequence (SECIS) element, that is necessary for the recognition of UGA as a Sec codon, rather than as a stop signal. Alternatively spliced transcript variants have been found for this gene.
Product Overview
Mouse Anti-Rhesus GPX4 Antibody is a mouse antibody against GPX4. It can be used for GPX4 detection in Western Blot, Enzyme-Linked Immunosorbent Assay.
Alternative Names
GPX4
UniProt ID
F6QFL1
Protein Refseq
The length of the protein is 69 amino acids long.
The sequence is show below: MFSKICVNGDDAHPLWKWMKIQPKGKGILGNAIKWNFTKFLIDKNGCVVKRYGPMEEPLVIEKDLPHYF.
See other products for "
GPX4
"
For Research Use Only | Not For Clinical Use.